How To Deal With Crazy People » About Lorinne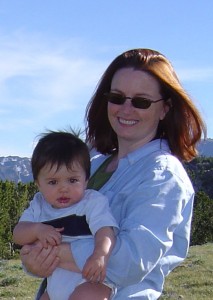 Lorinne is a practicing therapist in Billings, Montana.  She graduated from Abilene Christian University in 1995 with a master's degree in Marriage & Family Therapy.  She has worked with emotionally disturbed children, victims of sexual and domestic abuse, families in crisis and women in transition ever since.  She presently works in private practice with four other therapists.  Her official title is Licensed Clinical Professional Counselor.
Lorinne is married and has one son.  She also has too many dogs, a grumpy horse and a fish tank her husband wanted and won't clean.  Lorinne is a Christ follower.  She doesn't shove it on people or hide it from them.  She's  a fan of personal responsibility and generally too tired to be anything but honest. 
"I worked hard for the alphabet soup after my name but it doesn't make me better than anyone else.  I'm not in some lofty tower telling you from on high what will work for you.  I'm in the trenches trying to live a life, raise a son, and make a marriage work.  And yes, my family still irritates me too."